"Get something you've never tried before," said my wife as we scanned the wine list at
Moruno
, the Spanish restaurant in L.A.'s Original Farmers Market. It's a great place, with delightful Spanish dishes and an adventurous wine list that leans heavily in the Iberian direction.
Since most of the plates we get there are new to me, it makes sense to go with a grape that's under my radar as well. Hondarribi Beltza, f'rinstance. I have heard of Hondarribi's white counterpart, but was unfamiliar with the red version. It comes from a place called Bizkaiko.
Located in Spain's Basque Country, on the nation's north coast, the Bizkaiko Txakolina region is a collection of more than 80 little communities all growing wine grapes. They make Txakoli wine largely from the white Hondarrabi Zuri grape. This wine is made from the less common red grape, Hondarribi Beltza, grown primarily in the coastal town of Bakio.
Gorrondona Bizkaiko Txakolina Hondarribi Beltza
2015
The waitress at Moruno offered the red Basque wine, and I could not resist. The wine's nose brings dark fruit layered with black olive and bell pepper. Its palate is just as savory, with some earthy blackberry in the balance.
The red Txakoli wine was great with the artichokes a la plancha - salty, caramelized exterior with a tender inner. The music that was playing in the restaurant during our meal got high praise from my wife - big Eddie Kendricks fan.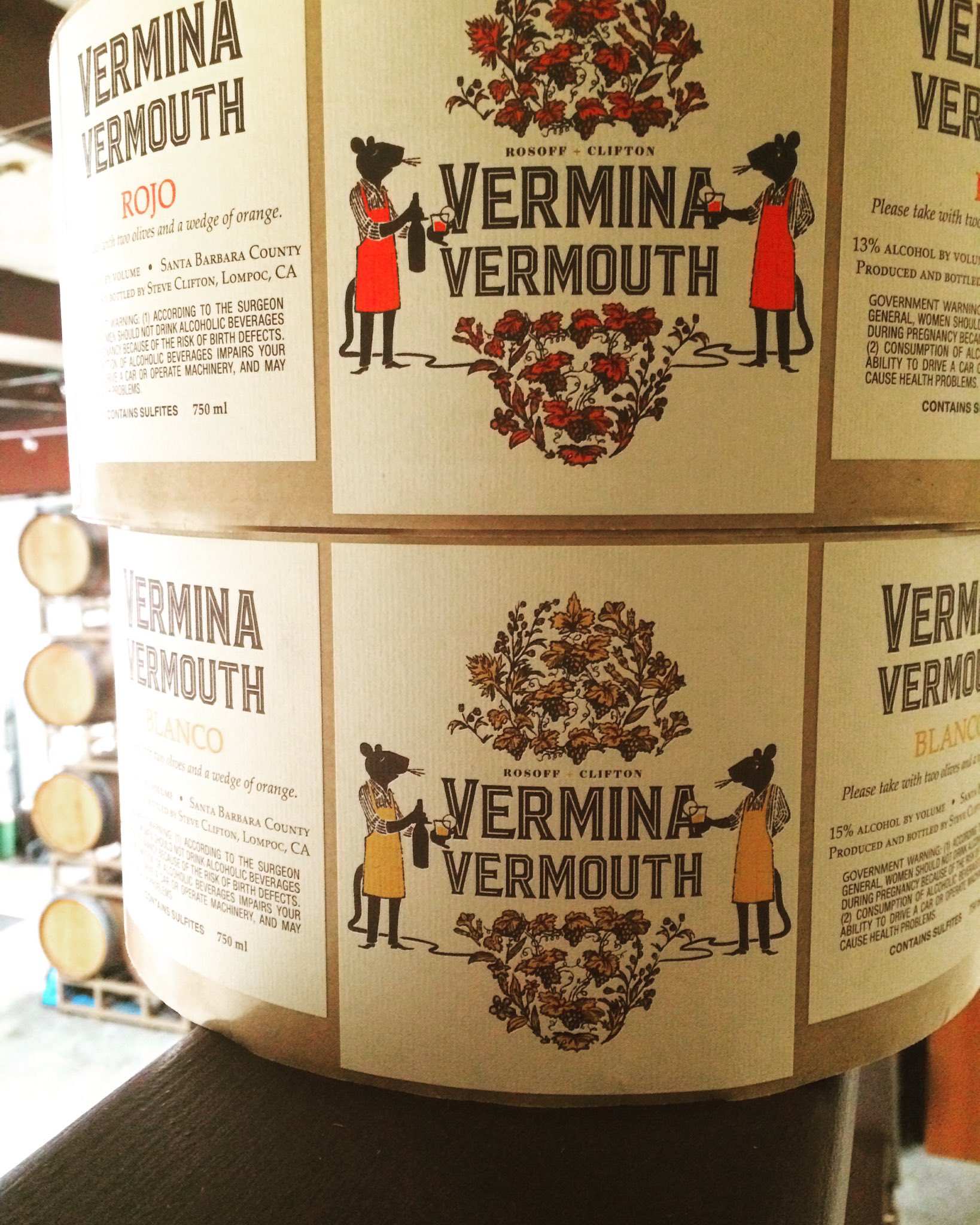 But Wait, There's More...
I hate to relegate this to a postscript, but I asked for a taste of a vermouth that Moruno has on the menu. It's made by
Steve Clifton
of Lompoc's
Palmina Wines
and comes in both red and white. It's on tap in the restaurant from five-gallon kegs. The label images come from
Palmina's Twitter feed
.
The organic Vermina vermouth is a collaboration between Clifton and L.A. restaurateur
David Rosoff
. It's part of Rosoff's effort to bring European bistro dining to Southern California. Clifton reportedly digs around himself in Santa Barbara County to find the herbs he uses in the vermouth. According to the L.A. Weekly, the white vermouth is a blend of pinot grigio and malvasia wines, while the red vermouth adds a touch of Sangiovese for its color.
It has a nose of violets and botanicals and shows wonderful freshness on the palate with a strawberry flavor that is carried along by the slightly medicinal notes of the botanicals.
Follow Randy Fuller on Twitter