Every holiday season, we see our email inbox fill up with gift ideas for the wine lover in your life. Really? Do you know what gift a wine lover really wants? Wine! Or a gift card with which they can buy wine. If you must go the novelty gift route, here are some suggestions for this holiday shopping season. But, really, it's wine they want.
Homewetbar.com
This online shopping site - and aren't we all shopping online as much as possible, if only to save the trip to the post office? - offers home bar accessories and gifts designed to please men. The company's slogan - "Dare to be awesome" - strives to sound hip, while actually sounding kinda kitschy. It works, though, in a weird way. The male-centric gift items come from all over the world, but custom printing and engraving is handled at the company's home in Oklahoma City.
The company's website states, "Giving back to the community and the military that protects the American heartland lies at the cornerstone of the company's business model." As such, they offer a 10% discount on all military orders shipping overseas.
The
Sonoma personalized wine serving tray
holds four stemmed glasses and a bottle. It also can have your own personal inscription added to the bamboo wood.
The
Rack'Em Up Billiards Shot Glass Set
features 15 glasses in a triangular tray. Perfect for the pool room, or for keeping track of how many shots you've had.
Beer Cap Maps of the US
- or your own home state - let you fill in the holes with bottle caps from your favorite breweries. I've done it. It's actually more fun than it sounds. At least, accumulating all those bottle caps is fun.
The Green Room Social
has a wide range of gift items, and tons of them are tech-oriented.
Zipbuds
are "Tangle-free earbuds created with patented Zipperless Zipper Technology™ providing premium sound and unrivaled convenience."
I love the Zipperless Zipper Technology™, but it's the low bass response I'm really after.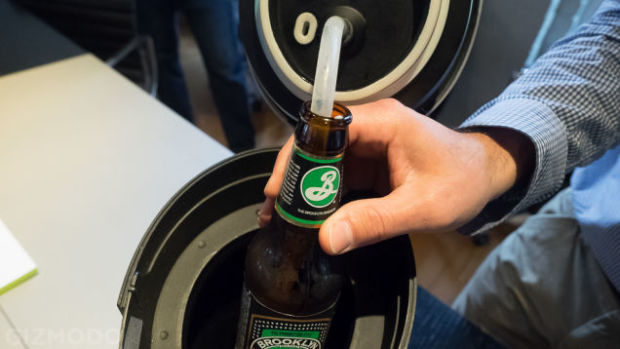 Fizzics
offers the "world's first personal beer dispenser that delivers expertly poured draught beer." I like to rely on professionals for that service, but then I usually agree when the warning says "do not try this at home." Reports say that this home bartender is 100% safe! and you don't have to tip it.
Bottles & Wood
is
a trend-setting eco-design company headquartered in San Diego which has a creative selection of sustainably chic gift ideas. Handcrafted, repurposed jewelry, serveware and home décor use locally-sourced materials.
For the beer lover: A four-glass set of Bottles and Wood's beer tumbler glasses are made from recycled bottles featuring both national labels and some of San Diego's favorite craft beer names.
For the wine lover: Bottles and Wood's reclaimed wine glassware offers a set of tumbler glasses, a nut dish or a cheese plate crafted entirely out of repurposed wine bottles.
For the tippler: Bottles and Wood's liquor-inspired tumblers, vases, dishes and shot glasses are made using recycled liquor bottles.
For the jewelry lover: Accessorize with Bottles and Wood's new line of tastefully upcycled jewelry. Earrings, bangles or a unique necklace are made from liquor, wine and beer brands.
Vinturi Champagne Stopper
Don't let your celebration go flat. Vinturi says the "spring-loaded design of the Champagne Stopper effortlessly seals your champagne bottles, maintaining the pressure equivalent of the original cork – to ensure your bubbly lasts and lasts." It's available at Williams-Sonoma.
Books for the wine lover...
The Wine Bible
(Workman; October 2015),
Karen MacNeil
answers questions we all need help with from time to time: What bottle to bring to a party? Which wine do I serve with Christmas dinner? Bubbles for New Year's Eve that won't break the bank. Lots of food pairing tips, too.
Tangled Vines: Greed, Murder, Obsession, and an Arsonist in the Vineyards of California
(St. Martin's Press, October 2015, Hardcover, eBook),
Frances Dinkelspiel
goes back in time to uncover the California wine industry's dark and bloody past. From murder to enslavement to controlling monopolies, California's "elixir of the gods" has had many unsavory moments in its history. She also looks back at a time when Southern California dominated the wine making business. For fans of true crime, history and of course, wine, it is a gripping tale best savored with a glass of vino in hand.
Follow Randy Fuller on Twitter